Speaking of the official Standard of the Bullmastiff breed we suggest you to read the articles appeared in the specialistic reviews - not last a written shown in the web site of the Club Italiano del Molosso.
What is sure is that we love the Bullmastiff of great spectacular impact, with great and powerful body and massive limbs. We like to think to the Bullmastiff as a good giant!
The American kennels are particularly engaged in the selection of the Bullmastiff breed to the top of the Standard. This is why we chose to buy our Rusty at Dox in Chicago, and then Iarda, that carries in herself the genetic patrimony of the Blazin kennel and of the Blakeslate kennel.
The other most important element for us is the character of the dog.
A Bullmastiff is, in our humble opinion, the ideal dog for the family and must have a character selected just for living perfectly inserted in a family, without taking away his temperament of watching and protecting dog.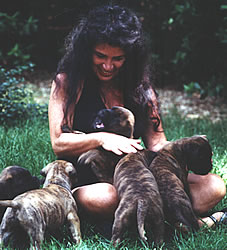 Our goal is to select this type of Bullmastiff. We have decided to get ahead with this project that is finalized to the selection of this type of Bullmastiff.
We hold our Bullmastiff in the house with us, like family dogs.
In this dimension our dogs have a solid relationship with us, share their live with the pack and have a very nice temperament, and the puppies learn quickly from the adults.
We have the fortune to live in the country and everyday we go in the wood with the dogs.
It is marvellous to look at their games, the sudden hunting, the unbridled runnings.
Surely we can not think to own many dogs, but we can try to vouch beautiful, peaceful and good tempered puppies.

Nadia Furlon & Raffaele Germoglio
Tortona
Tel 335 6271719